Distribution One Announces New Head of Global Customer Success and Operations
Distribution One Welcomes Jim Maher as the new Director of Global Customer Success and Operations
MOUNT LAUREL, N.J. (PRWEB) June 11, 2020 -- Distribution One, a leading provider of ERP distribution software solutions, announced that Jim Maher has joined as Director, Global Customer Success and Operations. In this role, Mr. Maher will a member of the executive leadership team reporting to Distribution One cofounders Larry Ward and Dean Christianson, and will lead the company's customer support, implementation, and operations organizations. He brings more than 25 years of enterprise customer success, operations, sales, and strategy experience at leading software and consulting companies such as Model N, Salesforce, Bluewolf, and Epicor.
"We are very excited and fortunate to have Jim join our team to offer fresh operational insight as we adapt to the changes impacting modern distribution," said Larry Ward, President and co-founder at Distribution One. "With his extensive background in distributor ERP and deep commitment to customer service, Jim will further strengthen the relationships we forge with every customer."
"I am very pleased to be joining the Distribution One team," said Maher. "The company serves the complex ERP needs of wholesale distributors, an industry in which I've spent a large part of my career. I'm excited to join the company to deepen our customer relationships, and to drive innovation in our customer experience and operations."
Most recently, Jim was Senior Director of Sales Operations and Enablement at Model N, a leading provider of cloud revenue management solutions for life sciences and high-tech companies. Prior to that, he provided CRM strategy guidance in his roles as Customer Success Director at Salesforce.com and Engagement Manager at Bluewolf. His roots in the wholesale distribution industry run deep with over 20 years' experience at distribution ERP software companies including Epicor, Activant, and Prophet 21, and at a family-run importdistribution business. He graduated from the University of Miami with a Bachelor of Science in Communication.
About Distribution One
Distribution One is an industry-leading developer of innovative customer-focused Enterprise Resource Planning (ERP) software designed specifically for the needs of wholesalers and distributors. Formed in 1996 and headquartered in Mount Laurel, New Jersey, Distribution One operates a branch office in Irving, Texas, as well as a network of ERP specialists in eight states across the country. This team thrives on providing solutions and support to customers across the United States, Canada, and into Europe.
Distribution One's 8000+ users operate in a variety of industries worldwide from fasteners, adhesives, industrial supply, and food service to electrical, retail, hardware, and janitorial supply to name a few. Wholesalers and distributors of every size trust Distribution One's turnkey software to streamline productivity, automate operations, and access critical real-time data to strengthen competitive advantage and expand profitability.
---
Morgan Ohare, Inc. announces Kevin Kaihara as Director of Sales.  "With over 25 years of industrial sales experience in the fastener industry, "Kevin and Morgan Ohare, Inc. will be great team in increasing the customer base and introducing Morgan Ohare, Inc. to the manufacturing industries." Said Joan Sosinski, President of Morgan Ohare, Inc. "This partnership shares our customer-driven principles on servicing our customrs, and we look forward to supporting and strengthening these valuable partnerships together."
Morgan Ohare, Inc. is the leading supplier of Case/Neutral Hardening, Barrel, Zinc Plating and Zinc Nickel Alloy Plating. Morgan Ohare, Inc. is located at 701 Factory Road in Addison, IL. Tel:  630-543-6780, Fax:  630-543-6792, E-Mail: kkaihara@morganohare.com.  Web: morganohare.com   2-20
---
Abbott Interfast announces the Nationwide Fastener Directory, a division of Abbott Interfast, LLC is entering its 47th year and our new edition will be online and live in January 2020.  In addition to the search features our website now includes our Virtual Book.  We are excited to announce additional new features this year:
NEW FEATURES FOR 2020
SAVINGS - additional items listed in the Virtual Book, in excess of the 500 included with our basic subscription, are now only $1.00 each, down from $1.50
Add additional items to our searchable online database FREE, up to 12,000 total
For each additional paid item listed in the Virtual Book, add 2 additional ones to online database.
OPEN RFQs, review all hard to find items that members have searched for in the last 3 weeks.
Easier website access, no login required, simply check the box and verify you are "in the trade".
Manage my account, see all your own emailed inquires for the last 12 months, edit their status.
New reduced advertising prices, $300 for any category tab, color ads and more, see attached.
Join now for the year of 2020.  This can be done by completing your application on our website www.nwfast.com or by calling us at 1-847-537-1300.
Founded in 1948, Abbott-Interfast Corporation is a privately held corporation supplying screw machined products, assemblies, fasteners, through its OEP, Inc. division, plastic knobs, and the printing and distribution of The Nationwide Fastener Directory.  We are a US company located in Wheeling, Illinois with customers throughout the Americas and around the world.  We maintain a 5-acre, 100,000 sq. ft. facility, stocking thousands of standard parts for immediate shipment.
---
Intercorp Introduces Intuitive & Time Saving Wholesale Webstore
ORANGE, CA -- Intercorp., an importer and master distributor of high-performance construction fasteners under the Strong-Point® brand, is pleased to announce the release of their advanced, intuitive wholesale webstore giving distributors the tools to research, order and ship the fasteners they need within seconds of logging in. David Harlan, Director of Marketing for Intercorp, states, "In today's competitive marketplace, distributors need real-time product information and better sales support to be at their best. Our webstore is a system that combines extensive product data and support for critical sales processes that our distributors will find irreplaceable."
With the webstore designed to be quick, informative and intuitive, distributors will benefit from the speed at which they can get real-time wholesale pricing via the webstore, compared to placing a phone call or typing an e-mail. David further comments, "This webstore will be a game-changer for our distributors. It helps provide them an advantage over their competition by greatly accelerating the research, order, shipping and tracking processes. Thus, improving their overall level of service to their customers."
With Intercorp's long history of distributing high-quality products with outstanding service and support, the design of this webstore directly reflects these attributes by putting them front and center, clearly focusing on the needs of our distributors.
For more information, contact your local Intercorp Sales Representative today to take advantage of this exciting new value-added webstore.   Intercorp is conveniently located across the USA to service any needs quickly and efficiently. Los Angeles - 800.762.2004 / Chicago - 800.533.9669 / New York - 888.322.2262 / Atlanta - 800.822.9690 / Dallas - 800.558.7222 / Portland - 800.434.5606 / Houston - 800.558.7222 / Cleveland - 800.533.9669 / Miami - 800.822.9690
About Intercorp
Founded in 1988, Intercorp has established itself as an industry leader in the fastener distribution business. Their flagship brand, Strong-Point, is sold by thousands of distributors throughout the United States. The brand consists of a variety of high-quality fasteners including: Self-Drilling, Needle Point, Woodworking, Stainless Steel, Drywall, Pole Gripper, Outdoor, Concrete, and Cement Board screws. With an outstanding reputation for customer service, quick delivery, and superior support for the distribution channel, Intercorp is unmatched when it comes to high-quality fasteners.
---
SWD Inc. opened for business in March of 1980 and over the past forty years has grown to be the premier source for finishing, coating and sorting for the Fastener Industry. With a focus on quality and customer satisfaction, SWD has continued to innovate and bring the latest technology to market. In 1982 SWD purchased Fastener Sorting Corporation which consisted of two roll sorters and two Precision machines that had been manufactured by Elco Industries. Throughout the 80's and 90's SWD worked to bring the latest sorting technology to their customers with Pace Optical then Pace Vision machines as well as Cochlea Ultrasonic sorting equipment and Retina Laser sorting machines.
In 1995 SWD moved to their current location and added Zinc Phosphating production. On March 18, 1998 SWD Inc. achieved ISO 9002, QS 9000, and ISO 14001 quality and environmental management systems certification and was the first metal finisher in the United States to receive ISO 14001 certification. In December of 1998 SWD Inc became a charter member of the IEPA ISO 14001/EMS.
SWD Inc. has been on the cutting edge of pollution prevention since it was founded and has continued to strive for the best possible solutions to protect our environment. In 1999 SWD received the Illinois State Governor's Pollution Prevention Award. SWD is a charter member of both the Metal Finishing Sector of the Common Sense Initiative Strategic Goals Program and the Multi-State Work Group, which are U.S. Environmental Protection Agency programs designed to reduce energy, waste and water consumption. In 2001 SWD Inc. was awarded Industrial Plant of the Year by the Illinois Association of Pollution Control Operators.
In 2003 SWD added new capabilities with a multi-million dollar state of the art Dip Spin coating machine to apply Dörken zinc flake coatings systems. The machine developed by WMV was the first of its kind in the United States and changed the way these coatings are applied and processed in North America. The production controls offer repeatable results that include the capability to program the RPM during the spin cycle as well as the reverse speed and individual tilt angle for every part processed. A custom recipe is developed specific to each and every part processed to ensure that the finished part meets demanding OEM specifications for coating thickness, corrosion testing and torque tension.
From 2004 – 2008 SWD spent over a million dollars to upgrade and bring in multi-camera vision machines with 3, 4 and 5 cameras to detect critical part characteristics as well as hold tolerances within +/-.001" on print dimensions. These new machines allowed for parts to be inspected automatically that once had to be sorted manually with gauges.
In 2012 SWD incorporated a second Phosphate line and by the end of the year completed the new 60,000 sq. ft. are to allow for new warehouse and sorting capacity. 2013 saw SWD adding a second WMV Tilt-Tumble Dip Spin coating line to double capacity and was awarded a second coating material license from Yuken Industry Co. of Japan. In 2014 SWD Inc became the first new licensee of Magni Coatings materials in North America in over 22 years. In 2016 SWD was awarded a Top Shop by Products Finishing Magazine. At the same time SWD has continued to add new sorting machines with unique capabilities. Each of these machines utilizes 4 to 8 vision cameras allowing for complete part characteristic inspection. SWD has the largest array of different machines which allows the best optimization for each part and configuration.
By 2017 SWD was looking to add capacity and continued to innovate with a Sidasa fully robotic coating line that allows Dip Spin coatings to be applied to even the most complex parts. The use of a planetary system helps eliminate issues with recess fill as well as provide a consistent coating thickness over the entire surface of a part. The equipment installed was the first of its kind globally and has yet to be duplicated.
In 2019 SWD completed a new addition of nearly 27,000 sq. ft. has been designed to allow for more warehousing with an automated racking system for part storage along with new office space for centralized shipping, receiving, and order entry processing. For 2020 SWD is planning to bring additional services to better serve their customers and continue to provide the highest level of quality and customer service.
---
BBI Market Announcement:
BBI is excited to announce the acquisition of CleanFit Associates, Inc., a leading provider of disposable gloves to the automotive retail channel. BBI has continued to expand its portfolio of products beyond its traditional base of industrial and construction fasteners, starting with Proferred Tools and Consumables, Ironclad Performance Wear for Safety Gloves, and now Cleanfit for Disposable Gloves into the retail channel.
Robert Virden, the President of Cleanfit Associates, says he's excited to work with BBI to leverage the scale and capital BBI can provide to bring the brand to the next level.
We are appreciative to the customers, employees, and suppliers that have built the Cleanfit brand, and we look forward to forging a strong future ahead.
---
EFC International Expands Product Line With Air Filter Hardware Components
ST. LOUIS, MISSOURI – January 20, 2020. EFC International is pleased to announce the addition of air filter clips and specialty air filter fasteners, manufactured by Springfield Spring & Stamping, to their product line. Springfield Spring & Stamping is a leading manufacturer of standard and custom air filter holding frame clips in the United States. The product line is complementary to EFC's current HVACR product offerings including wire routing components, caps, plugs, clamps, rivet-nuts, panel fasteners, specialty nuts, bolts and screws.
EFC's Sales Manager for Industrial & Distribution Markets, Paul Musgrove, states "The addition of Springfield Spring & Stamping's filter hardware components extends our reach into the HVACR market. Commercial and industrial air filter manufacturers, manufacturers of air handling units, air filter distributors, contractors and building maintenance professionals will experience the EFC Difference in customer service, engineering assistance, and local support through EFC's global presence."
EFC International is a leading global supplier of specialty engineered metal, plastic, cold-formed, spring steel stampings and wire forms, electrical and assembled component parts to the OEM and Distribution market places serviced from multiple locations in North America, Europe and Asia. To find out more, please visit www.efc-intl.com.
Contact:
Joyce Gerber
jgerber@efc-intl.com
314-439-4374
---
Fastener Distributor Index – December 2019
Written by R.W. Baird analyst David J. Manthey, CFA 1/9/20
Key Takeaway:
The seasonally adjusted Fastener Distributor Index (FDI) for December was 44.4, slowing further vs. November and dipping further into contractionary territory. Sales trends on a seasonally adjusted basis were slightly weaker m/m, with a majority of respondents' sales below expectations. The six-month outlook was also slightly worse, while the Forward-Looking Indicator (FLI) was similar sequentially but remains decidedly sub-50. Overall, December fastener market conditions were soft for the second consecutive month, while respondents' implied January forecasts are for less bad demand conditions given an improved (but still sub-50) FLI.
Fastener Distribution Trends: December 2019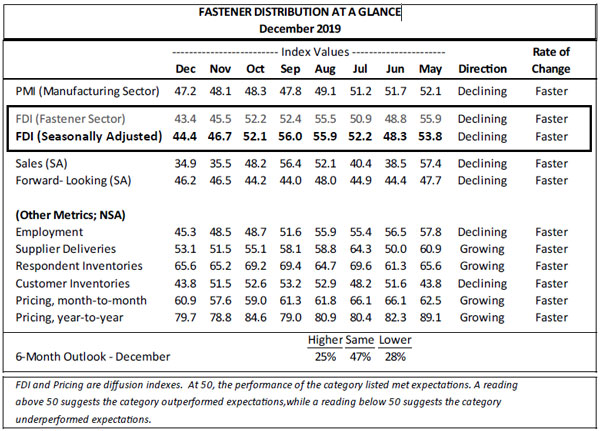 Source: Baird, FCH Sourcing Network, Institute for Supply Management
About the Fastener Distributor Index (FDI). The FDI is a monthly survey of North American fastener distributors, conducted by the FCH Sourcing Network and Baird with support from the National Fastener Distributors Association. It offers insights into current fastener industry trends/outlooks. Similarly, the Forward-Looking Indicator (FLI) is based on a weighted average of four forward-looking inputs from the FDI survey. This indicator is designed to provide directional perspective on future expectations for fastener market conditions. As diffusion indexes, values above 50.0 signal strength, while readings below 50.0 signal weakness. Over time, results should be directly relevant to Fastenal (FAST) and broadly relevant to other industrial distributors such as W.W. Grainger (GWW) and MSC Industrial (MSM).
---
We invite you to submit your industry news to be posted here. Keep the fastener industry updated on your company announcements, important technical information, etc. by submitting to news@mwfa.net. All submissions will be reviewed prior to determination of posting.